LC LC - OS2 Trample Tough Mil-tac Fiber
Trample Tough™ OS2 mil-tac fiber is suitable for high traffic areas and abusive environments, remote video/broadcasting and harsh military applications. Preterminated with LC connectors and 6" armored breakouts which are reinforced for extra strength. This is one of the toughest, most durable cables on the market and can survive severe blunt force, sharp bends and heavy traffic of any kind. 
Trample Tough™ is also commonly used in tradeshows, music festivals, indoor/outdoor arenas including sporting events and concerts. It is ideal for any indoor or outdoor area in which it needs to withstand extreme conditions or high vehicle/foot traffic. This cable uses TPU material which has excellent flexibility and is water resistant. It is also suitable for retractable wiring environments such as military communications or mobile wiring. Trample Tough is built with LSZH, which is often used where safety and reliability are critical. It's made with materials that produce low/limited smoke and non-toxic halogens when exposed to fire or high temperatures.
Each cable comes with individual test reports and a lifetime warranty. Lengths of 70 meters and above come on a spool for ease of use. 

Trample Tough™ is a true Military-Tactical fiber optic cable composed of tight buffer fiber, kevlar and a TPU jacket, which is pressure and oil resistant. It also has an extreme tensile strength, excellent flexibility, flame retardant and able to operate in a wide range of temperatures. In addition, the 6" breakouts are constructed with micro-armor, for extra stability when installing or removing the pre-terminated LC connectors. Test Procedures
Optical Characteristics
Vibration Test
Thermal Cycling and Aging
Impact and Humidity Resistance
ROHS Compliant
Tested according to IEC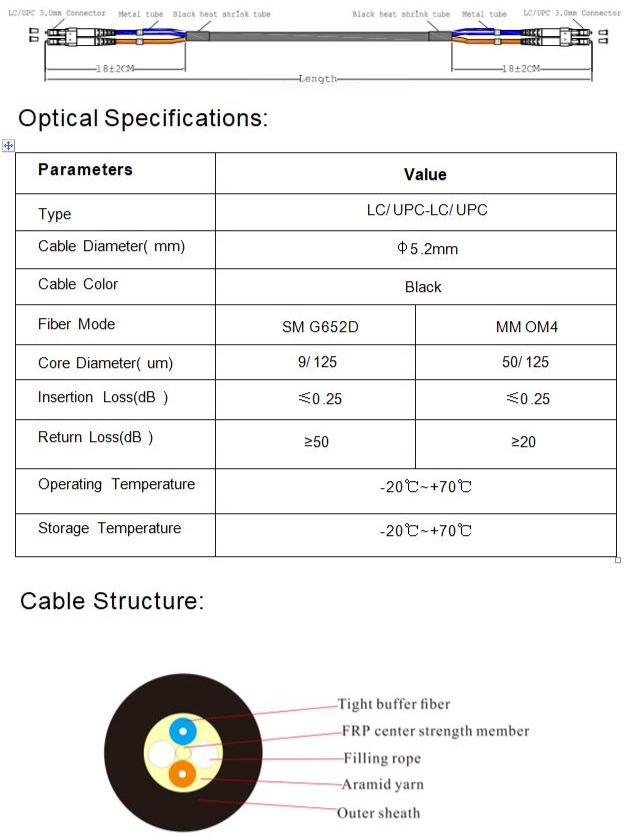 Data sheet
Cable Type

GJBFJH-2

Operating Temperature

-20~ +60

Fiber type

Corning G652D

Breakout type

6 inch micro-armored – Blue/Orange

Tight buffer color

Blue

Tight buffer material

LSZH

Tight buffer diameter (mm)

0 .85 ± 0 .05

Outer jacket color

Black

Outer jacket material

TPU

Outer jacket thickness (mm)

1 .3 ± 0 . 1

Outer jacket diameter (mm)

5 .2 ± 0 .2

Center strength member

FRP and Aramid yarn

Cable weight ( kg/ km)

27 .5 ± 10%

Min. bending radius (mm)

(Static) 10 times of outer diameter - ( Dynamic) 20 times of outer diameter

Attenuation(dB/ km)

SM: ≦ 0 .4 at 1310nm - MM: ≦ 3 .5 at 850nm

Short term tensile (N )

1500

Short term Crush resistance (N/ 100mm)

1000
Specific References
upc

715786682240